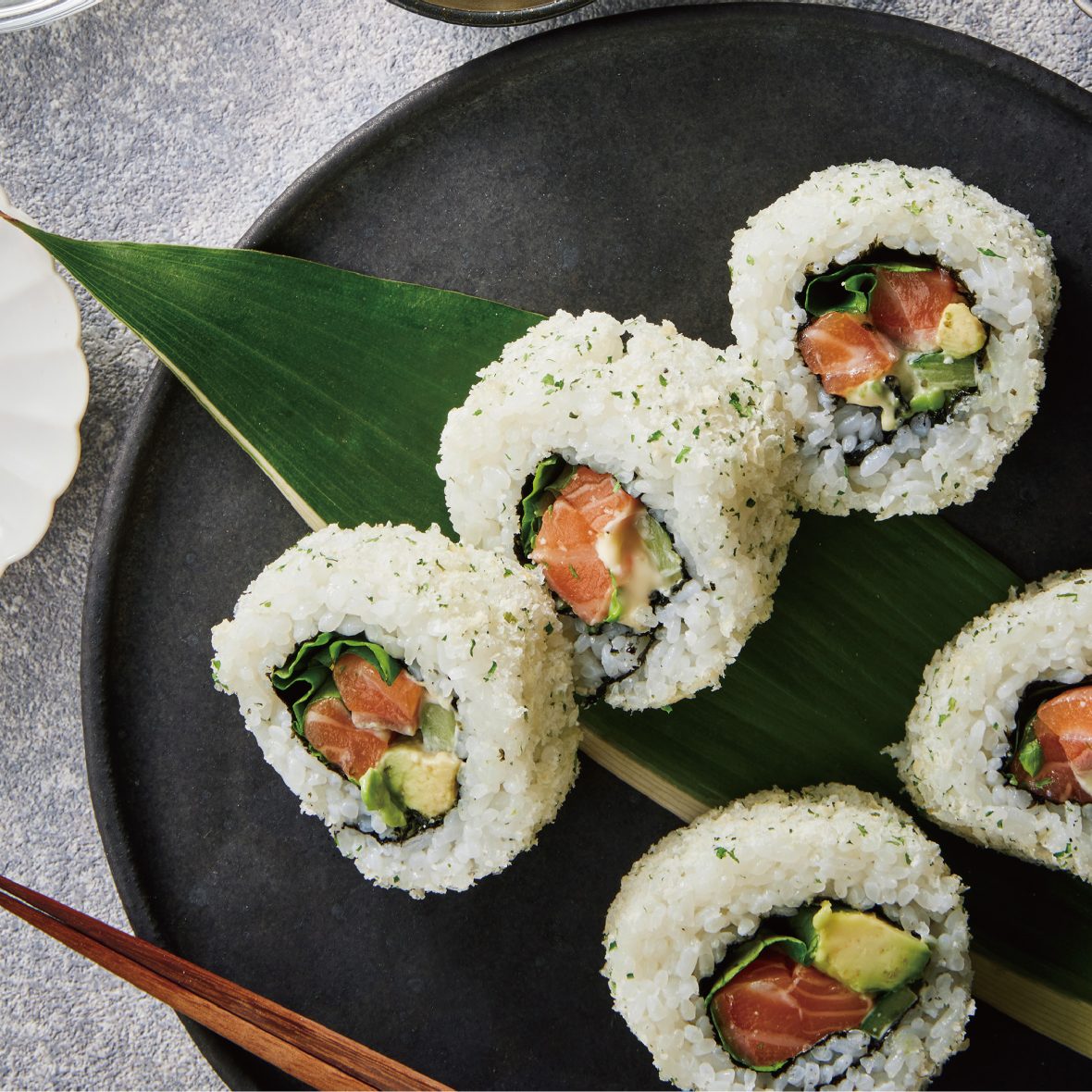 Crunchy sushi roll
[ serves 4 ]
GF
rice

2 cups

sushi vinegar

4-5 tbsp.

salmon

130 g

red-leaf lettuce

2 leaves

avocado

1/2 piece

cucumber

1

grilled seaweed

2 sheets

mayonnaise

to taste
"Cheese WAPANKO"

WAPANKO

1 cup

A_grated cheese

4 tbsp.

A_dry parsley

1 tbsp.
[ Method ]
1

Add sushi vinegar to freshly cooked rice. Mix lightly using the rice spoon.

2

Cut salmon into 8 equal parts. Cut red-leaf lettuce in half, peel avocado and remove pit. Cut avocado into 8 equal strips. Repeat process with cucumber, remembering to cut off the ends.

3

Bake WAPANKO at 180 degrees Celsius for 6 minutes and mix with A in a bowl.

4

Place grilled seaweed on a sheet of saran wrap. Spread layer of vinegar rice over grilled seaweed. Place another sheet of saran wrap over sushi roller and flip seaweed and rice onto roller so that vinegar rice lies on the bottom.

5

Add red-leaf lettuce, salmon, avocado and mayonnaise, leaving a 5- centimeter margin. Roll.

6

Place the WAPANKO mixture on the roll and spread evenly.

7

Cut to a desired size and serve.

Other recipes